11/01/18 20:09
Technically, my second watercolor of 2018. The sky was cloud covered—a thin layer—wherein the sun could be made out in the late afternoon. The Atlantic provided a nice reflection in response as distantly, a large freighter and tug traversed the shore opposite my perch in Rockaway Park. Namely, Sandy Hook. There was no fire of sunset, in fact it alls seemed monochromatic to me, the clouds appeared bleached as backlit by the sun and everything took on a cool blueish hue.
I enjoy the attempts to document what is there in watercolor. So many subtile, atmospheric qualities to the scene and though defused a simple narrative on a stage about eight miles distant. Regarded and ignored typically as an art subject I would think, but there is a drama there, a tone. We'll see how many more I'll be able to get done this year.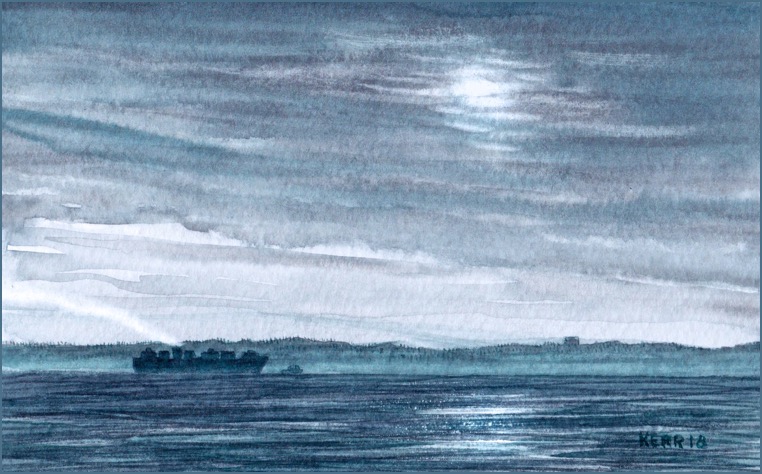 30/12/17 15:12
Try to keep up with social media, but for the short-term, I'm gonna keep a blog on my site, if only to chronicle the banal goings on for my own personal reference. Not much new to report today, but I will have to head out in the cold and pick up my artwork from Gallery Gaia in Brooklyn. It has run for a month and was fun to attend the opening and meet the people behind the show. Don't want to have to go out and do this, kind of want to be like Whiskey the dog and take a nap…she has her priorities straight.