Technically, my second watercolor of 2018. The sky was cloud covered—a thin layer—wherein the sun could be made out in the late afternoon. The Atlantic provided a nice reflection in response as distantly, a large freighter and tug traversed the shore opposite my perch in Rockaway Park. Namely, Sandy Hook. There was no fire of sunset, in fact it alls seemed monochromatic to me, the clouds appeared bleached as backlit by the sun and everything took on a cool blueish hue.
I enjoy the attempts to document what is there in watercolor. So many subtile, atmospheric qualities to the scene and though defused a simple narrative on a stage about eight miles distant. Regarded and ignored typically as an art subject I would think, but there is a drama there, a tone. We'll see how many more I'll be able to get done this year.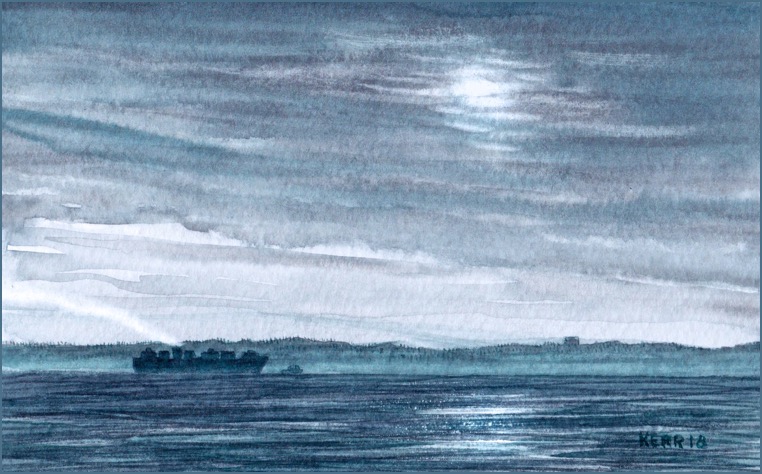 01/01/18 11:11
What to do on New Year's Eve? Val & I are not the Ball-Dropping-In-Times-Square types, so we took up an invitation to hit a Brooklyn open mic at Sir D's Lounge. Joel premiered a few original songs and the rest of the crew played a range of material spanning the blues to Gordon Lightfoot tunes. Afterward we reveled into the later hours with the musicians at Santa Fe, a Mexican restaurant nearby. Prior to all this, we visited the Rodin show at the Brooklyn Museum. Os (the fellow wearing the "scoop" cap) had the honor of being the very last drawing of the year. Got four scribblings in. Great way to end 2017 and a wish goes out to all youse FB buddies to enjoy a spectacular 2018...Happy New Year Y'all!